Description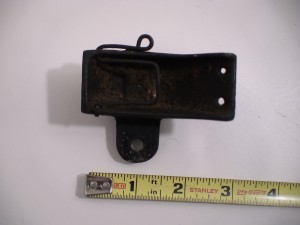 You will receive both the #8670 Oil Cup, and the #8597 Spring
Like all our parts, this will be used, original, vintage Singer 29-4 parts from our inventory or parts machines. All parts come as-is, in good useable condition, "as found" (original dirt and grease intact!)
This vital part is missing from many used 29-4 machine heads. If you don't see one on your machine, (it should be located on the top of the machine in line where the thread passes to the tension disks), this is a must have — most types of thread will break if not oiled when sewing leather or other heavy materials.
How it works: The thread is passed under the spring clip, and forced into the oil well to be lubricated before it makes its way through the machine.
Oiling the thread also delivers oil to other parts including tensioners, internal parts of the machine head and lubricates the needle making sewing a much smoother operation.
Tip: To prevent oil from splashing out of cup, cut a small piece of thick felt to tightly fit  in the bottom of the well, then fill well with clean sewing oil until pad is slightly over-saturated.  Adjust spring clip to ensure thread is guided against oiled felt pad but is not bound up.