Description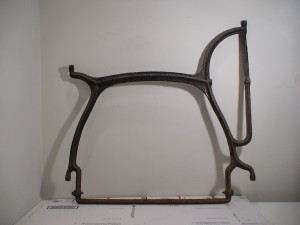 Center support connects left and right, (short and tall), legs of the cobbler style treadle base for the Singer 29-4 "Boot Patcher", (and other CLASS 29), machines.
Support is made of cast iron is complete with no cracks, stripped out or over-drilled holes, ready for use as is, or refinish as desired.
USED – VINTAGE – ORIGINAL SINGER PART!
NOTE: As with all our used sewing machine parts, we ship them with "as found", (with all the original grease and grime intact — we may give them a quick wipe to remove dust, cobwebs, etc — but these are usually 100 year old parts and we leave them looking that way).