Description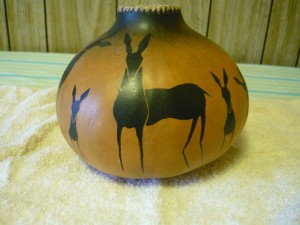 Early hand painted gourd with pictograph and signature on bottom by Arturo Ramirez, founding member of the New Mexico Gourd Society.
Design is a striking herd of nine deer circled around, and although  the artwork is simple black silhouette, Ramirez captures the spirit of wild deer.
Top of gourd is finished in jute.
Signed "Arturo Ramires, Los Lunas New Mexico U.S.A. 1989"
Size:
(aprox.) 15cm h x 20cm w.
Year:
1989
Artist:
Arturo Ramirez
Origin:
Los Lunas, New Mexico, USA